The Diamond Replacements Band Saw Blades also made to Mar-Med Bone Saw,Pathology Band Saw and Bone Band Saw,It Easily cut a wide range of bones, including difficult femoral heads, with Diamond Bone Band Cutting Saw. This saw makes simultaneous, parallel cuts to allow removal of a slice of bone for processing.
Sometimes,It named diamond band saw blade features a diamond coating that extends seamlessly along the edge of the entire blade. Continuous blades may serve many different purposes and be used to cut a wide variety of hard marterials.
Using high quality grit electroplated to the blade edge - HANS provides a diamond band saw blade that can offer precise cutting, minimal material loss, and superior band life. Regardless of what material you`re cutting - quartz, glass, carbon, silicon, ceramics, or composites = our specially formulated steel backing will lend exceptional strength and flexibility to you diamond band saw blade. All blades are cut and welded to customer specification with a weld guarantee that lasts the life of the blade.
Industrial production processes require cutting of a large number of materials. Diamond band saws are gaining ever greater importance in this process. The diamond band saw blade has proved to be a successful solution in many applications. It comprises a commercially available band saw, coated with an electroplated diamond layer, so it can be used on practically all band sawing machines. These band saws have been developed by focusing on the application requirements and leveraging Winter's extensive experience in designing and manufacturing Diamond Abrasive Tools.
Notes on selection of bandsaw type
Bandsaw cross section
The cross section should be specified as wide and as thick as possible. However, note the diameter of the pulley. Band thickness (dimension E) should be in the range 1:1000 with respect to the diameter of the pulley. Band height (dimension F) is determined by the type of cut. For straight cuts, specify the maximum possible band height. For contours, band height should be selected as follows:
Smallest cuttable radius (mm) 16 40 65 95 145 185 305
Band height (mm) 6 10 12 15 20 25 30
Cutting edge / tooth shape
In principle, cutting edge S37B can be used for cutting all materials. This cutting edge is recommended for thin-walled and delicate materials. If segmented edges are used, there should always be two teeth simultaneously engaging the material. The advantages of segmented design are better transport of coolant and better chip removal, with softer, longchipping materials. However, the cut edge on the material is somewhat rougher.
Diamond grit size
Specification depends on the desired surface finish, cutting characteristics of the material, cutting width and machine parameters. Long-chipping materials should be cut with coarser grit sizes.
| | | |
| --- | --- | --- |
| Oder Code | Dimension | Diamond Grit |
| GB3718 | 940mmx3.17mm | 180Grit |
| GB37718 | 960mmx3.17mm | 180Grit |
| GB5918 | 1511mmx3.17mm | 180Grit |
| GB5914 | 1511mmx6.3mm | 180Grit |
| GB6218 | 1575mmx3.17mm | 180Grit |
| GB6214 | 1575mmx6.3mm | 180Grit |
| GB15763 | 1570mmx6.3mm | 100Grit |
| GB15745 | 1570mmx4.5mm | 180Grit |
| GB9318 | 2.375mmx3.17mm | 180Grit |
| GB9314 | 2.375mmx6.3mm | 180Grit |
| GB9312 | 2.375mmx12.7mm | 180Grit |
| GB10518 | 2667mmx3.17mm | 180Grit |
| GB10514 | 2667mmx6.3mm | 180Grit |
| GB10512 | 2667x12.7mm | 180Grit |
| GB23910 | 2390mmx10mm | 100Grit,180Grit |
| GB2398-1 | 2390mmx8.3mm | 60Grit |
| GB2398-2 | 2390mmx8.3mm | 100Grit |
| GB23945 | 2390mmx4.5mm | 180Grit |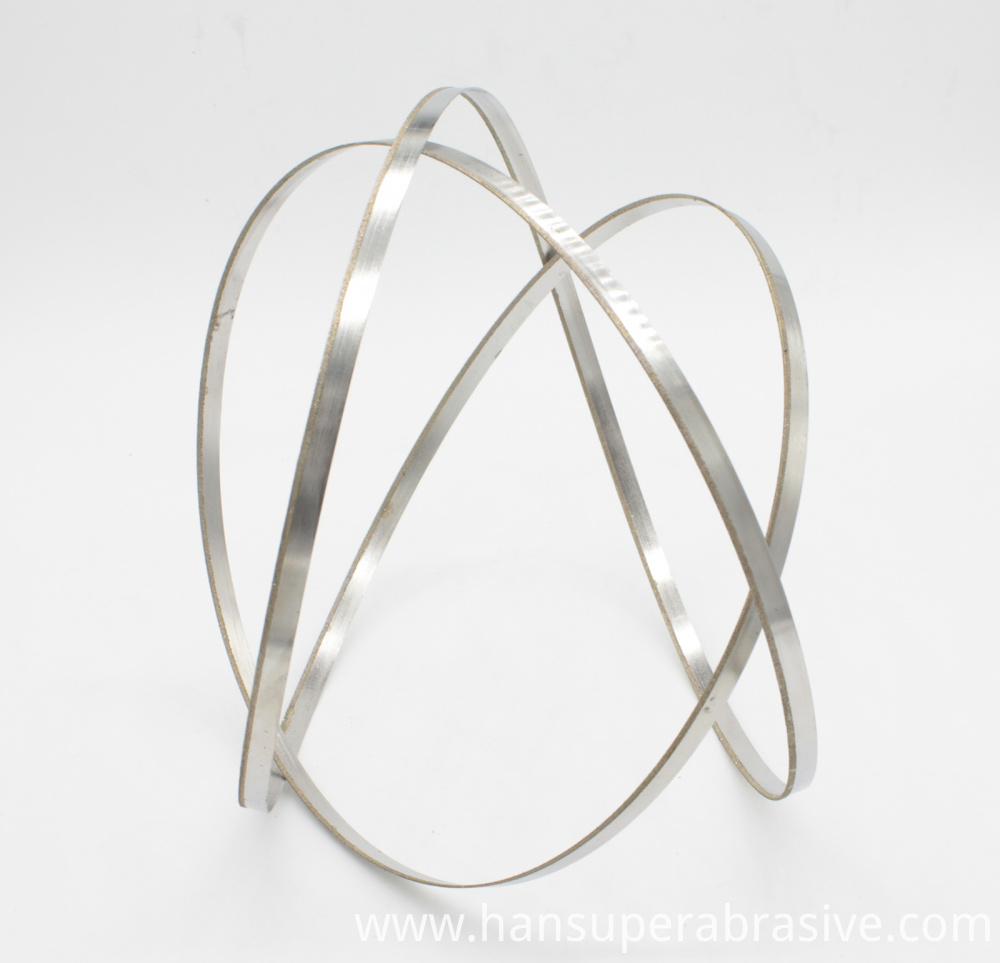 Looking for ideal Diamond Band Cutting Saw Blade Manufacturer & supplier ? We have a wide selection at great prices to help you get creative. All the Diamond Pathology Bone Band Cutting Saw are quality guaranteed. We are China Origin Factory of Diamond Coated Band Cutting Saw Blades. If you have any question, please feel free to contact us.